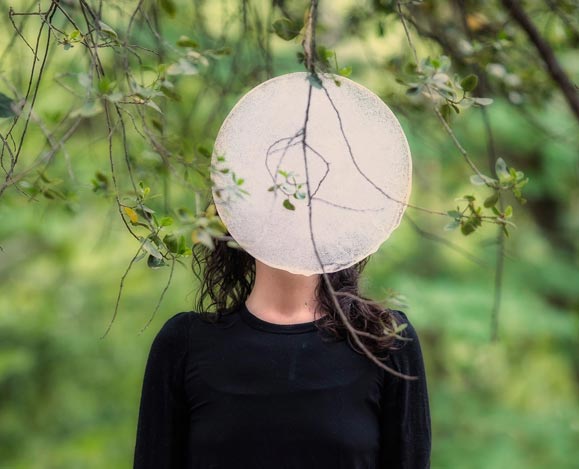 Acción procesual que progresivamente desemboca en una serie de tres microacciones.
TÍTULO: Más de tres desplazamientos
DURACIÓN: Aprox. 3h
LUGAR: Campo Grande. Festival TAC, Valladolid

COMISARIA: Isa Sanz
Fotógrafos Chuchi Guerra y Agustín Hernández
---
Agua de lluvia recolectada en la primavera del 2017.
Durante el invierno queda helada.
En la primavera del 2018 es desplazada del Parque del Rio Guadarrama en Madrid al Parque Campo Grande también llamado Campo de la Verdad y Campo de Marte en Valladolid.
El número tres aparece: Verdad, Marte y Grande; y con él realizo una pieza única para el lugar, en la que aproximadamente durante tres horas  doné mi aliento a las tres piezas de agua de lluvia helada…
Dar calor
absorber frío
gotas caen
se deslizan
se desplazan
quedan contenidas
y
…
un último soplo de aire
las logra expandir.
TITLE: More than three displacements

LENGTH: Aprox. 3h.
SITE: Big Meadow. TAC Festival, Valladolid. Spain

CURATOR: Isa Sanz
Photographer Chuchi Guerra & Agustín Hernández
---
Spring water rain collect in 2017.
During winter froze.
In 2018 spring it is displace from Rio Guadarrama Park (Madrid) to Big Meadow Park also called True Meadow and Mars Meadow (Valladolid).
Number three appears: True, Mars & Big; and with it I made a unique and site specific piece, in which during three hours I donate my breath to the three frozen raining water pieces…
Give heat
absorb cold
drops fall
they slide
they displace
they are contained
and
…
one last breath of air
it manages to expand them.
---
---
---
---