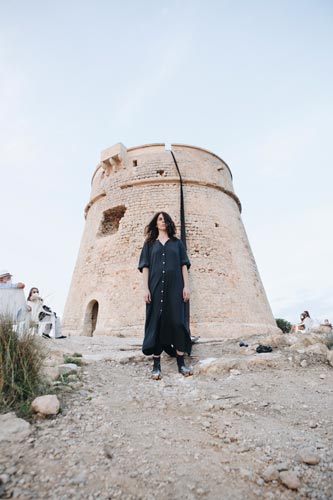 Pieza presentada en el Festival Territori, una nueva performance dentro de la serie "Conversaciones", que llevo desarrollando desde el año 2015.
Cada una versa sobre un temática diferente, dependiendo de los acontecimientos y preocupaciones que esté viviendo en ese momento. Esta performance es la número 9 de dicha serie, bajo el subtítulo "Sobre la fortaleza".
"On the fortress* is a new performance in the series «Conversations", which I been developing since 2015.
Each one deals with a different theme, depending on the events and concerns I am experiencing at that time. This performance is number 9 of that series, under the subtitle «On the fortress».
TÍTULO: Conversaciones 09. Sobre la fortaleza

DURACIÓN: 1h

LUGAR: Torre des Carregador, Ibiza

COMISARIA: Isa Sanz

Festival Territori, 2020
Fotógrafa Ana de Austria
---
Qué mejor momento que el presente para hablar de fortaleza…
Qué mejor lugar que una torre de defensa,
lo que en su día fue un antiguo refugio para los trabajadores de la sal frente al ataque pirata…
Si pienso en la palabra fortaleza,
en mi mente aparece…
la fuerza,
el vigor,
la energía,
la vitalidad,
la dureza,
el ánimo,
el brío,
la potencia,
la firmeza,
la resistencia…
Pero quizás fortaleza es, además de resistir, aprender a soltar,
quizás también sea limar durezas,
entender y apreciar nuestras debilidades como posibles potencias,
además de practicar la resistencia, incorporar la resiliencia.
Cuando verbalizo una performance,
siento que el lenguaje la limita y por el contrario, la acción la expande.
Así, esta nueva pieza, además de conversar, pretende expandir la idea de fortaleza.
TITLE: Conversations 09.
On the fortress
LENGTH: 1h aprox

SITE: Carregador Tower, Ibiza (Spain)

CURATOR: Isa Sanz

Territori Festival, 2020
Photographer Anita de Austria
---
What better time than the present to talk about strength …
What better place than a defense tower,
what in its day was an old refuge for the salt workers from the pirate attack …
If I think of the word fortress,
in my mind appears …
the force,
the vigor,
the energy,
the vitality,
the hardness,
the spirit,
the verve,
the power,
the firmness,
the resistance…
But perhaps strength is, in addition to resisting, learning to let go,
maybe it is also filing hardness,
understand and appreciate our weaknesses as potential strengths,
In addition to practicing endurance, incorporate resilience.
When I verbalize a performance,
I feel that language limits it and, on the contrary, action expands it.
Thus, this new piece, in addition to talking, aims to expand the idea of ​​strength.
---
---