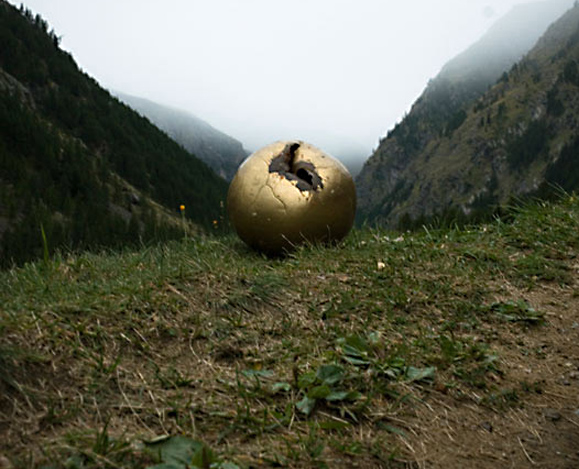 Serie donde la resitencia corporal, la preocupación por entender la relación entre lo humano y lo natural, buscar el equilibrio entre el ser individual y lo colectivo está presente y en cada acción se realiza de diferente manera.
TITULO: 5K
MATERIALES: una piedra, dos huevos, dos telas (negra/blanca), clavos, sandia pintada de dorado y raditransmisor.
DURACION: 15min
LUGAR: Ze dos bois durante Emergencia, Lisboa
FOTOGRAFO: Joao Pedro Blanco
Noviembre 2011 (no es del 2012 pero está aquí porque es la que inicia la serie)

En esta pieza se viven dos situaciones de tensión, por un lado la de una piedra de 5k sostenida por una tela blanca, fina, debajo de ella dos huevos, y por el otro lado una sandia también de 5k introducida en mi brazo.
Me interesa introducir un elemento incontrolable, búscando el azar y la participación de los asitentes. Con esta idea le doy a una persona un radiotransmisor apagado. Con su elección hace que la pieza se transforme a través de lo que decide sintonizar.
En la acción me resulta importante generar misterio, ir revelando poco a poco, por ello empleo las dos telas. En cada una de ellas están los elementos principales de la acción: la sandia y la piedra.
In this action two situations of tension are lived, on one side of a stone of 5k hold by a white cloth, fine, under it two eggs, and on the other hand a watermelon also of 5k introduced in my arm.
I want to introduce an uncontrollable element, looking for random and the participation of the asitentes. With this idea I give to someone an off radio transmitter. With his election makes that the piece is transformed through what decides to tune.
In the piece I find it important to generate mystery, go revealing little by little, therefore the employment of two fabrics. In each one of them are the main elements of the action: the watermelon and stone.
Título: ¿Donde está la carta de la Tierra?/ Where is the Earth letter?
Duración: aprox. 25 min
Materiales: telas, papel burbuja, sandia dorada, martillo, clavos oxidados, radio trasmisor, balón de baloncesto pintado de dorado y piedra.
Festival Interajcke, Piotrokov Tribunalsky. Polonia, Mayo 2012.
Fotógrafos Martyna Piasecka y Mariusz Marchlewicz.
En esta acción empleo distintos elementos para crear un paisaje sonoro a través de la participación colectiva. Estos elementos son: radio transmisor, papel burbuja y balón.
Una vez todos ellos son accionados me sumo a la acción golpeando una serie de clavos oxidados.
Le sigue una acción de resistencia, por una lado dos personas sujetan una tela en la cual hay una piedra de más de 10k. Mi acción de resistencia consiste en mantener una sandia de unos 7k.
Termino saliendo de la galería, camino en círculos cada vez más deprisa hasta que la sandia sale de mi mano.
In this action I use different elements to create a soundscape through collective participation. These elements are: radio transmitter, paper bubble and balloon.
Once all of them are performed it I join the action by hitting a series of rusty nails.
It is followed by an action of resistance, on the one hand, two people holding a fabric in which there is a stone of more than 10 k. My action of resistance is to maintain a watermelon about 7k.
I end up leaving the Gallery, once I am outside begun to walk in circles ever faster until the watermelon came out of my hand.
Título: La succa dorata
Duración: 5h
Material: Sandia de 5k
Gran Paradiso en Los Alpes italianos, Septiembre 2012.
Fotos de Igor Sousa.
Recorrido de 5h desplazando 5k de sandia,
ascenso de 2.500m.
Una vez arriba vacío la sandia.
El descenso se realiza únicamente con la piel.
5h itinerary displacing 5k watermelon,
ascent of 2,500 m.
Once above I empty the watermelon.
The decline is only done with the skin.
Título: Tira y afloja
Duración: 25 minutos
Materiales: Sandia de 5k, piedra de Gran Paradiso desplaza en el 2012, papel burbuja.
Durante Spagheti Vernisage en Matadero Madrid, Junio 2016.

Title: Tug of war
Duration: 25 minutes
Materials: 5k watermelon, stone from Gran Paradiso displace in 2012, bubble paper.
During Spaghetti Vernisage at Matadero Madrid, June 2016.