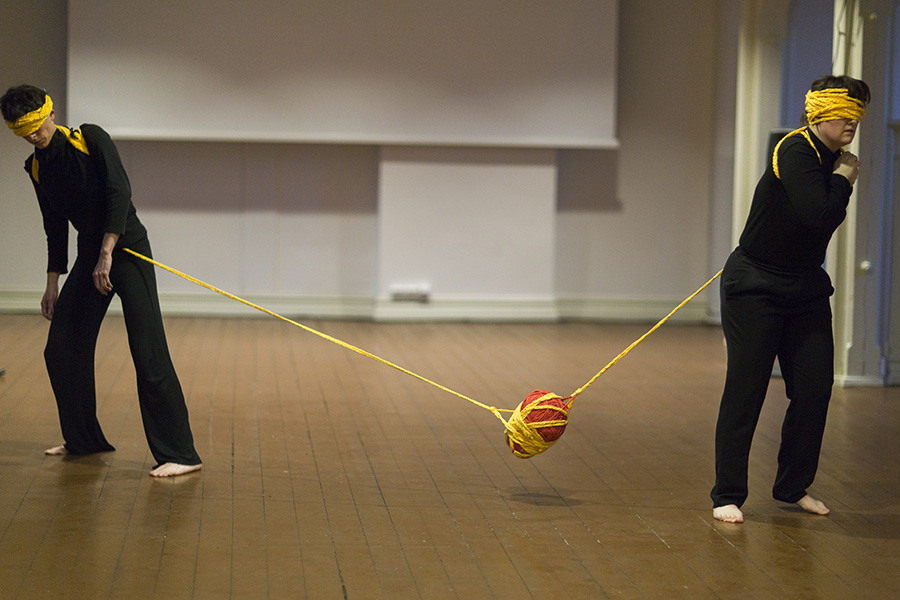 Pieza realizada dentro del proyecto EXCHANGE España-Norge en la ciudad de Oslo junto con la artista noruega Inger Reinun Olsen.
Fotógrafa Monika Sobczak.
Durante diez días estuvimos proyectando e intercambiando ideas así como largas conversaciones sobre nuestro proceso creativo,
sobre la situación socio-política de España, sobre la sociedad Noruega y de todo ello nacen dos piezas:
Are they super hero's? y Are they going to hang themselves?
Ambas piezas fueron realizadas en el espacio público, la primera en una plaza y la segunda realizando un trayecto junto al río Akerselva.
El siguiente vídeo es una versión corta de los dos desplazamientos que realizamos en el espacio público. Iro con una piedra que desplacé desde España y yo con una piedra que encontré el primer día que llegué a Oslo junto al río Akerselva. Al final del proyecto hubo una muestra pública donde realizamos una acción continuación de la iniciada en la calle en la cual juntamos las dos piedras y el vídeo fue un elemento más.
During ten days we were projecting and exchanging ideas as well as long conversations about our creative process, on the social-politics situation of Spain, Norway society situation and from all that two pieces were born:
Are they super hero's? & Are they going to hang themselves?
Both were done at public space, first at a square and second doing a journey near the Akerselva river.
The following video is a short version from the two displacements done at the public space. Iro with a stone displace from Spain and I with a stone found the first day near the Akerselva river. At the end of the project a public event took places in which we continue this action putting together both stones. The video was also an element used on the performance.
Esto tuvo lugar en la primavera del 2014. Cuando regresé a España realice una serie de dibujos y edité un libro objeto títulado «Apuntes sobre procesos».
This took place in the spring of 2014. When I returned to Spain I make a series of drawings and edited a book titled object «Apuntes sobre procesos».
También se publicó un libro interactivo con los trabajos de los ocho artistas que participamos, aquí se puede descargar gratuitamente.
Also published an interactive book with works of eight artists who participate, here free download.
Y aquí una versión pdf del mismo.
Este proyecto fue subvencionado por la beca EEA de la Embajada Noruega en España.