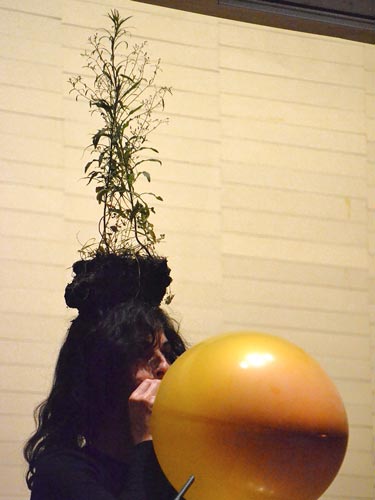 Cuatro micro acciones donde el sonido es el eje central
Four micro actions where the sound is the central axis
Título: Esto va de pelotas
Duración: 19″
Festival Acción! MAD en la Sala El Águila, Madrid
Comisaria Nieves Correa
Fotógrafo Abel Loureda
Noviembre 2016
Esto va de pelotas o de esferas o de círculos o de…
Esto va sobre lo que no se ve, de lo que mueve, de lo que está presente de manera constante pero… no se ve.
Esto va de hinflar, de soplar, de dar aire, de como lo invisible puede convertirse en materia y ésta explotar.
Esto va de lanzar, de botar y rebotar y de agarrar y soltar y volver a lanzar y…
Title: Esto va de pelotas
Duration: 19″
Acción! MAD Festival Sala El Águila, Madrid
Curator Nieves Correa
Photographer Abel Loureda
November 2016
This goes as balls or spheres or circles…
This goes about what we can´t see, of what moves but not is seen, of what is present of way constant but… not is sees.
This goes about blowing, about give air, about how the invisble transform into materia and this explote.
This is about throwing, bouncing and bouncing and grabbing and releasing and throwing again and ….